All the features tested and completed by our Team of R&D, Factory team drivers and ISTC World Champion Marc Rheinard.
Cell Master Double Accel is designed for expert R/C car drivers it gives a great race time.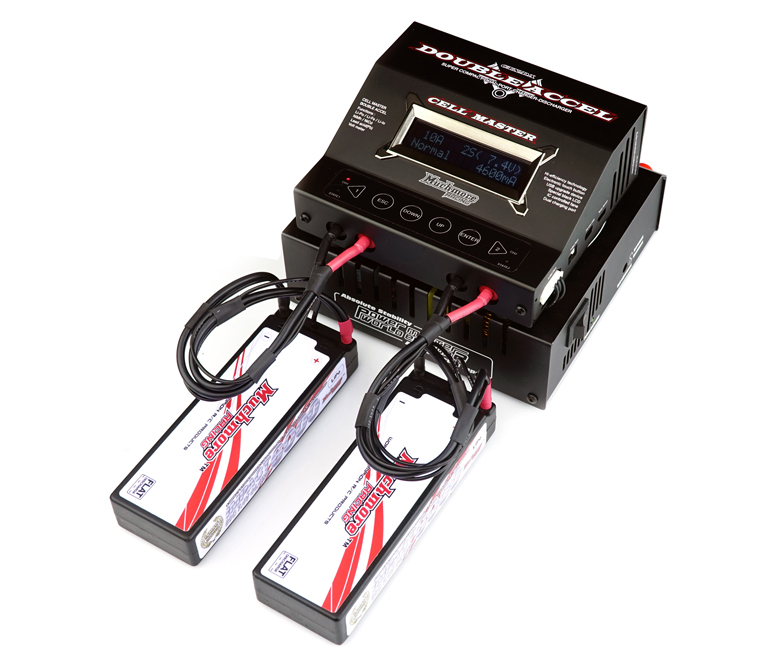 ● Dual 200-watt(100+100) charging circuits
2-port 200 watts (100W +100 W) charging circuit.
Cell Master Double Accel ground breaking charger features 200 watts of power via dual 100+100watt circuits allowing for
simultaneous charging of two batteries up to each 10 amps.
● Ready to Race charging
Includes high precision Special 2P Balance Charging Lead, can charge directly without conversion connector.
● High-efficiency charging current reduction technology system
Muchmore Racing R&D Team developed high-efficiency currents boost system.
For example, when LiPo 2S 10A charge batteries, currents is only required 8A. Do not need a high-capacity power supply.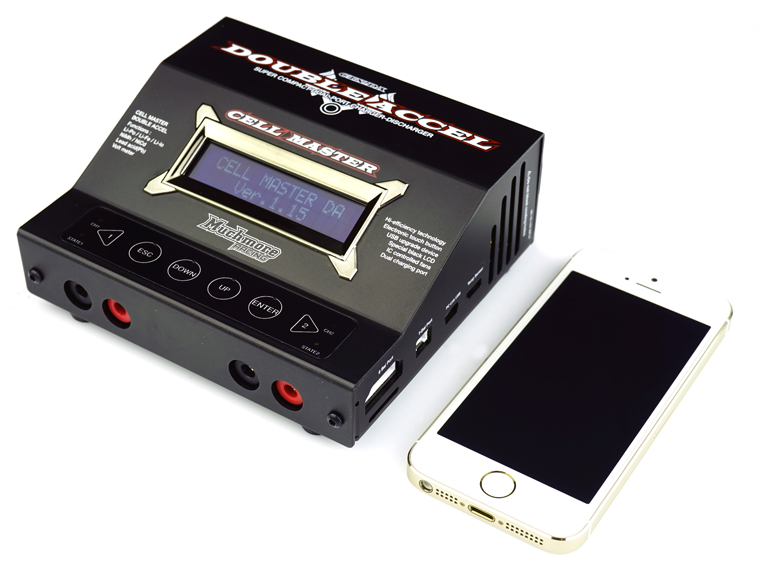 ● Super compact dual-port charger
Muchmore Racing R&D team has succeeded to make the world best compact dual-port charger.
It is the fine compact charger with high-tech designed balancing circuit, constructed dual charging system.
Very stmall size, light weight make easy to move on your pit table, can take full advantage of the space.
● Special black back light LCD display
All this technology is accessible through an easy-to-read Special black back light LCD display.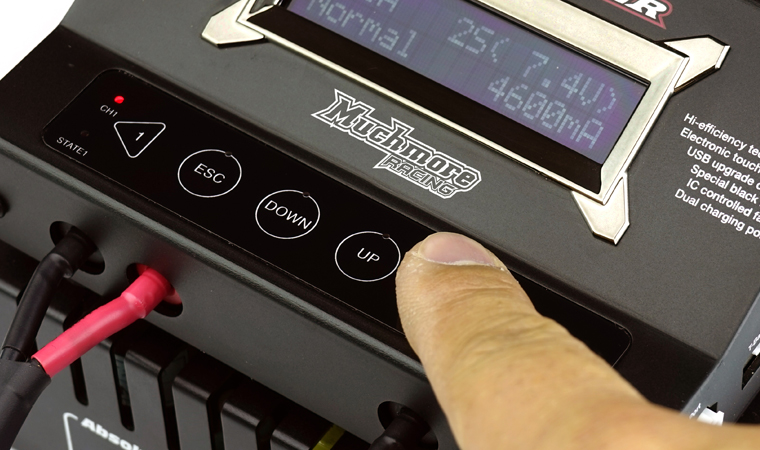 ● High sensitivity touch button system
Adopting a very high sensitivity touch button for each menu, you can run briefly.
Also prevent the penetration of foreign substances.
This system ensures the stable operation of the button on dusty environments such as off-road stadium.
● Quick Easy UI, Fast response
Designed UI to use easily is based plenty race experience.
Fast response time will help you to conveniently charge.
● Each channel status LED indicator
Easier to check charging status; charging, discharging, stand-by, complete, at a glance by Dual blue state indicator LED.
● Intuitive channel button and channel status indicator
Under any circumstances, you may want to move the channel to the one-touch.
● Voltage meter
Individual cell and total pack volt shows at a glance.
You can check the voltage of the battery before a race.
● Internal resistance view of Lithium battery packs
Adopting a new internal resistance, test each cell individually and provides Individual cell and total pack resistance values
so you can check the condition of your Lithium battery packs.
● Built-in TAMIYA Lithium battery balancing port
The world Tamiya R/C race certified Lithium battery can be charged immediately without conversion connector.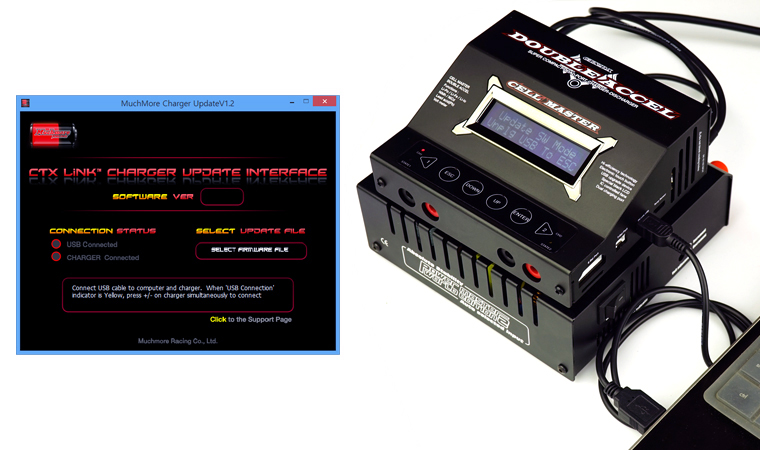 ● USB Firmware upgrade system
Muchmore Racing CTX Link™ software you can easily upgrade to the latest firmware.
The new firmware for the future simply by updating, you can use the latest features without discomfort.
● Safety circuit board and software design
When charging NiCd or NiMh, you can set the upper limit of charge current to avoid damage or explosion from high current feeding.
If you set the limit of battery temperature the process will be expired forcibly when the limit has reached.
Prevent reverse connection of the battery to prevent damage to the equipment and a built-in safety circuit.
When you do short-circuits between the output charge lead , LCD screen will let you know.
(Optional part : MR-DATC Cell master double accel temp sensor)
● Temperature controlled cooling fans
Use Low-noise/high-performance dual cooling fan.
Temperature controlled system make the effectual cooling condition.
- Includes Connectors -